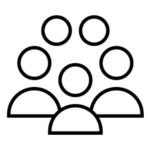 Educator Groups & Workshops
The following services are on offer for educators, and those within the education sector: 
Workshop Series
For educators who wish to increase their knowledge and understanding of group analytic concepts, we offer the 4 termly workshops (delivered as webinars during COVID-19) as a stand-alone service that educators can join. This will suit educators who are interested in learning about how group dynamics impact on teaching, learning, and schools, but who cannot commit to the weekly group as part of the Educators' Training Programme in Group Analytic Concepts. Participants will join those partaking in the training programme in the same workshops each school term. 
When: One workshop per Term (dates to be confirmed)
Cost: R600 per person per workshop
For more information, please contact us via admin@cgas.co.za
School-specific Services
Are you looking for a workshop to address a particular need that your school may have? Details about the workshops offered are available on the Educators' Programme in Group Analytic Concepts page, or we can tailor-make them for your school/whole staff body. Costing would need to be determined.
For more information, please contact us via admin@cgas.co.za
Work Reflection Group
Schools are busy environments where the fast pace does not often allow for the chance to pause and reflect on the many challenges involved in working with teachers, parents and children. As professionals, educators work in stressful contexts and often in isolation. The emotional content of cases (school situations) can become a burden that you carry around with you, and which threatens to seep into your personal life.
The Work Reflection Group is a meeting space with fellow colleagues to discuss your personal and professional experiences, in an agenda-free, work-reflection group. It is an opportunity for uncovering and discovering new ways of thinking and for gaining multiple perspectives about working within the school context.  The aim being that the group allows you to gain support, insight and integration and becomes a resource for growth and resilience at work.
For more information, please contact LINDY ACKERMANN at linack@mweb.co.za