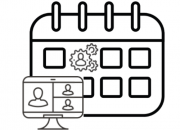 Events
Quarterly Meeting – Saturday 22 May (via Zoom)
The second Quarterly Meeting will start with the Large Group for CGAS members from 09h00 – 10h30. This will be followed by a presentation from 11h00 – 12h30 by Prof. Astrid Berg on:
Can we avert the intergenerational transmission of trauma, deprivation and racism through reflective practice?
In this presentation, Prof. Astrid Berg will share how psychological trauma and deprivation reverberates through the generations within families and communities. In many countries such as South Africa, it is racism that is often the root cause of these devastating experiences. While trauma overwhelms the psyche leading to splitting, deprivation leaves gaps that need to be filled. Through reflection links could be made to the origins of the psychic splits and gaps which in turn would prevent their unconscious transmission to the next generation. How to find a way to do this in multicultural spaces is a challenge – examples from work in communities in South Africa will be presented.
This webinar is open to all mental health clinicians. Tickets (R100) can be purchased via

Quicket

.
Important dates to diarise for 2021
CGAS AGM: Thursday 11 February 19h45 – 21h00

Quarterly Meetings – Meetings will start with the Large Group and be followed by the webinar on the following Saturday mornings, from 09h00 – 12h30:

20 February – The Impact of Racial Trauma on Mind, Body, and Soul (Dr Stuart Stevenson, Dr Anne Aiyegbusi, and Anthea Benjamin)

22 May
14 August
13 November

Ethics Workshop: Saturday 18 September 09h00 – 12h30
Previous Speakers in 2020: Quarterly Meeting 16 May – Haim Weinberg; Quarterly Meeting 15 August – Dick Blackwell; Ethics Workshop 12 Sept  – Farhad Dalal: Codes of Ethics: Bureaucracies and the Policing of Psychotherapy Professions; Quarterly Meeting 21 Nov – Patricia Johnson-Peterson