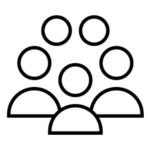 Psychotherapy Groups
The following psychotherapy groups are on offer in Cape Town:
Adult Psychotherapy Group
This group is aimed at stable and capable individuals who would like to further work on themselves and/or who wish for a safe, reflective and supportive space in which they can grow by gradually making authentic contact with other human beings.  Members are encouraged to be open with the group and to share their own impressions and understandings of each other, their interactions in the room, and their broader lives.  This process provides many healing and growth promoting  opportunities and will appeal to those who are psychologically minded or who already have some experience of therapy and wish to continue the journey of psychological growth and discovery.
All applicants first meet individually with the group conductor to assess whether this psychotherapy group will meet their needs and then again to prepare them to enter the group.  Applicants must be able to commit to and attend the group psychotherapy in an ongoing and consistent way.
Location: Kenilworth (online during COVID-19)
Time: 17h30 – 19h00
Days: Mondays
Size: 9 people
Cost: Medical Aid Rates Apply
Contact: VINCENZO SINISI (Psychoanalyst / Clinical Psychologist / Group Analyst)
0837420114
Processing Practice
Professionals who interact with individuals, groups or communities in addressing health and/or social concerns will find this group useful. Contemporary health and social services in South Africa are characterized by high workloads and frequent structural changes driven by resource constraints. Navigating multiple demands and layers of stress on a daily basis, service providers have little time for thinking dynamically about their work.
These groups comprise eight-ten persons and are offered as required to individuals from different organizations or settings or groups from the same organization.
The group offers a reflective, thoughtful space for practitioners to process practice issues that affect their personal/professional lives. A dynamic understanding of work experiences in the South African service context, based on a shared exploration of personal/structural processes, will unfold in a confidential and supportive group environment.
For further information please contact:
PAT MAYERS – 0824672302; pat.mayers@gmail.com
MADELEINE DUNCAN – 0787320546; eve.duncan@uct.ac.za
Weekly Psychotherapy Group
This ongoing psychotherapy group consists of a maximum of 8 members. Members meet on a weekly basis during school terms, breaking for school holidays. The facilitated group acts as a container, creating a safe space in which personal and interpersonal issues can emerge, be explored and understood so that healing can take place. The group requires a minimum commitment of 1 year, but members can stay for as long as they choose. Issues dealt with include relationships, depression, anxiety, unresolved past trauma and current life events. Group psychotherapy is a highly effective and cost-efficient form of therapy.
Location: 11 Rouwkoop Road, Rondebosch (online during COVID-19)
Time: 08h30 – 10h00
Days: Wednesday
Cost: R290 per session (can be claimed from Medical Aid)
Contact: MONICA SPIRO (PhD; Clinical Psychologist; Group Analyst)
(021) 7941577